---
Delivered by Carol M. Hess at the Women's Auxiliary
Annual Meeting and Spring Luncheon on May 11, 2017...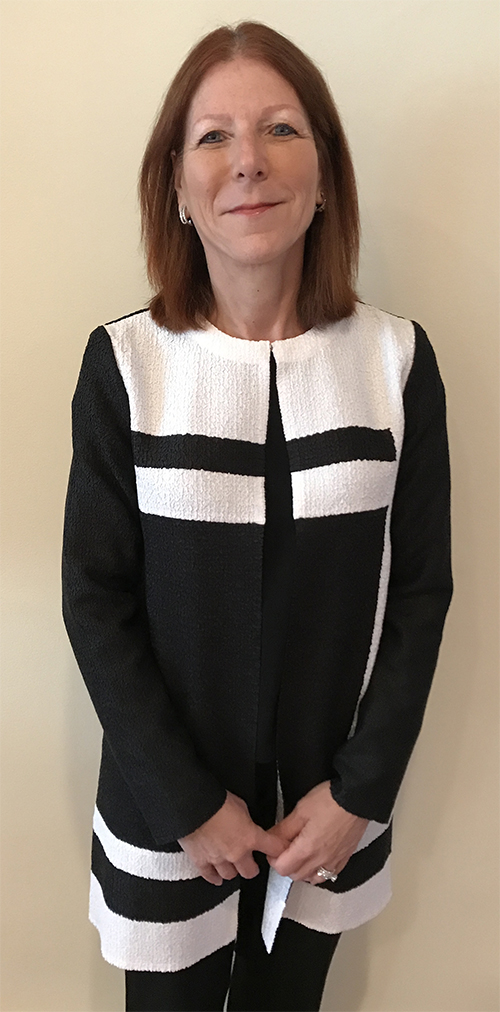 Good afternoon and welcome.
I'm Carol Hess, president of the Women's Auxiliary.
This past year, I was very fortunate to get the opportunity to meet members (and their guests) and to get to know better many of you that are here today.
We have 275 paid members, and complimentary one-year memberships went to the 97 women who joined the congregation this year.
Together, we signed up and participated in the many fresh, friendly and fun Women's Auxiliary calendar of events of 2016-2017. With Leslie Hecht, our program chair, we got on a bus to "Day at the Museums," toured the UN and lunched in the Delegates dining room. We had an "Italian Adventure" and an afternoon with Michael Aram. We recently went to the theater to see WAR PAINT, the story of Helena Rubinstein and Elizabeth Arden, starring Patti LuPone and Christine Ebbersole. Those hardworking, successful and ground-breaking women are and have been part of the Women's Auxiliary.
The Women's Auxiliary is celebrating its 95th birthday! More about that later.
We shared our personal experiences and opinions in each of the four Book Club discussions led by our rabbis and cantor.
We continue to greet each other and wish each other a "Good Shabbos/Shabbat Shalom" at Friday night services. We volunteer together (setting up, mailings, packing backpacks and packaging gifts for Holocaust survivors at Mitzvah Day). I am proud to say that it is an honor and a delight to be part of such a dynamic group of women.
As Emanu-El has a "statement of vision," the Women's Auxiliary has a charter. I would like to read extracts from our charter.
Our History
The Women's Auxiliary was founded in 1922 with the purpose of providing opportunity for the women of Emanu-El to foster the interests of the temple through religion and friendship.
Our Activities
We continue our efforts today to improve the lives of the temple membership and the greater community in which we live. Our initiatives include the English in Action program (started in 1968), the Art Center for Seniors (1954), Project Backpack (2006), Ronald McDonald House Dinners (1998), the annual Veterans Party — now a baseball game (1945), and our Book Club (1999). Our participation in Religious School holiday activities unites the generations.
Who We Are
We are a community of warmth and welcome where every individual matters. We support each other in times of trouble and celebrate together in times of joy.
Our Commitment
Membership in the Women's Auxiliary offers the opportunity to be part of the rich heritage we have built and to shape our future. We unite the generations of the women of Emanu-El, through religion and friendship, and offer each of our members the ability to make a positive impact on themselves, on each other, on our temple community, and on the greater society in which we live. We invite all women of Emanu-El to join us to create a brighter future.
As our lovely luncheon continues, "Thank Yous" are in order. Please stand up to receive the recognition that you deserve. Kindly save the applause to the very end.
I would like to take this time to thank the Women's Auxiliary Officers:
Vice Presidents —
Joanne Froelich, Alexandra Bloch Jeydel and Viviane Sallay.
Outgoing Treasurer —
Margot Melniker
Recording Secretary —
Marlene Yokel
Honorary Presidents —
Bunny Barb, Jocelyn Chait, Cecelia Hauptman, Marcia Waxman and Nora Weinreich
Our various community-service programs, projects and events continue at full strength under the able leadership of their chairs:
Art Center for Seniors (ACE) —
Marlene Yokel
Ronald McDonald House —
Bunny Barb, Marjorie Dreyfus and Phyllis Hahn and the dedicated volunteers
Hospitality —
Phyllis Hahn and Bunny Barb
English in Action —
Jocelyn Chait and Rhona Lipton and the devoted tutors
Veterans —
Alexandra Bloch Jeydel and Ann Shapiro
Book Club —
Debbie Weiss and Dorothy Wigod
Program Committee —
Leslie Hecht
Membership Committee —
Eileen Cutler, Leslie Hecht and Ann Shapiro
Nominating —
Marlene Yokel
Thank you to everyone who volunteered this year and supported the Women's Auxiliary.
Thank you Roz Pretzfelder for stepping in and the work you have done in the office of the treasurer. I would like to give special thanks to Dionne Gorbea, who has been invaluable to not just me but the entire Women's Auxiliary. The Emanu-El staff has worked alongside with us as well, and the clergy is always here for all of us! It takes cooperation and team spirit.
Wishing everyone a nice summer!
Back to Women's Auxiliary